Rafi the Frog on Rafi the Rescuer at pool, future site of Fitness, Exercise, Recreation and Nature (FERN) Photo Credit Rafi Knispel-Heyworth
"Placing his hands on the [finger],
The frog respectfully recites
His poem."
–Sokan
Thompson clearly in his element with Ari's tadpole catcher Photo Credit Bonnie Abrams.
Froglet and nearly a frog on Thompson's hand. Photo Credit Bonnie Abrams.
Field Trips on 8/19, 8/27 and 9/3
Thompson wrote: "I had so much fun! I wanna come back and rescue the rest of them. There were so many. We released exactly 250 tadpoles. Ari estimated that there might be still another 250. It sounds like Ari actually wanted us to come again"
A froggin'-cute selfie of the team before hours of hard work, Thompson and Bonnie. Photo Credit Thompson Marinho.
35 Gray Tree Frogs jumping tree frogs in a carrying container. Photo Credit Bonnie Abrams.
Bonnie reports:
"[On 8/19] A Frog House team members rescued 5 toads, 35 gray treefrogs and 250 tadpoles from the swimming pool of the former Camp Sisol in Honeoye Falls."
"….This particular rescue operation took over 4 hours. Luckily,Thompson and I had the help of three boys – Scotty, Lucas and Connor – friends of Ari Freedman-Weiss, the current owner."
"….We are passionate about amphibians and this most recent rescue was nostalgic. My now 26 year old attended that camp for 5 years and our family used to swim in this pool when camp wasn't in session."
"… As I found myself standing in a foot of rainwater and detritus on the cracked and peeling pool floor, I might have felt depressed, but the pool was still teeming with life, albeit not excited children, but rather tadpoles, frogs and toads."
A better view of our little friends. Photo Credit, Bonnie Abrams.
"…These amphibians congregate at temporary pools in spring and early summer to breed. They are opportunists, breeding in ponds, vernal pools and swimming pools. Ponds have natural predators. Vernal ponds in wooded areas dry up in the summer, by the time that hopefully the frogs are ready to hop about and find new homes in trees or ponds. Swimming pools usually have no natural predators so they offer a much safer nursery, but these are usually opened for the season by mid June. Any tadpoles still there normally will not get to reach adulthood unless rescued."
"…If there's no pond nearby, we set up a kiddie pool in a shady area of the property, fill it with water from the temporary pool, add some vegetation so algae will grow (unlike the bug eating adults, tadpoles eat algae) and put rocks around the inside edges so the adults can climb out. If you want them to be able to grab a snack on the way out, put some rotting fruit on the rocks to attract fruit flies."
Thompson and Rafi froglet warriors. Photo Credit, Margot Fass.
Ari asked us if we would like to come back for the remaining tadpoles. Bonnie wasn't available, but Rafi was. Our count, 90 tadpoles x frogs and 1 salamander. There was a great big old American Bullfrog down in the depths of about 6 feet of water, but we couldn't catch it, and there might be some tadpoles that wouldn't be stirred up, but they no doubt will be leaving soon.
The only hard work for me was getting out of this boat. The rest was pure joy! Photo Credit Thompson Marinho.
See why I am the fluffiest? This is Rafi's reward on his last day, at, Pittsford Farms Dairy, one of our valued sponsors. Photo Credit Lindsay Graham.
Rey, Thompson (our common denominator) and Onimim. Rey, Thompson (our common denominator) and Onimim. How many tadpoles did we catch this time? Read the hands! Photo Credit Margot Fass.How many tadpoles did we catch? Read the hands! Photo Credit Margot Fass.
A Frog House Interns Shaila, Surya, Thompson, Onimim, Rafi and Rey, plus me. Photo Credit Robert Corby.
Field Trip on 8/20
A Frog House Interns made up of high school and college students at all levels have been learning and talking with visitors about the Pittsford Village Arboretum and the Erie Canal Nature Preserve, as well as asking them to sign our petition. It seemed high time we all took a field trip to see what it actually is all about.
Studying the Scavenger Hunt map at the site of the frog ponds. Photo Credit Robert Corby.
Fortunately, Rob Corby was available, and in his characteristically generous way, he took us all on a guided tour. The interns were equipped with our Scavenger Hunt pages from our event two years ago. Between Rob's insights and profound knowledge of geology, nature, and history, and the questions to answer, we all now have a much better idea of what A Frog House and our projects are all about.
Thompson wrote: I learned about which invasive plants have been growing in the area of the Arboretum and why they are harmful to native plants. I was glad to hear that initiative is currently being taken to remove the several invasive plants that are proliferating in the arboretum. My favorite part of the field trip was the scavenger-hunt: I got to learn more about our local ecosystem and the different ways it supports the growth and reproduction of frogs.
Eutrophied ponds, choked with duckweed, algae and invasives at the Erie Canal Nature Preserve. Photo Credit Surya Man.
On June 26, 2022, A Frog House hosted Andy Smith, environmental engineer at Stantec, spoke to a gathering including Bill Smith, Pittsford Town Supervisors, Rob Corby, some members of the environmental board of the Town of Pittsford, Color Pittsford Green, and other interested party.
Andy spoke about problems and solutions in the Erie Canal Nature Preserve ponds and wetlands. At that meeting Bill Smith said "We have the money. Let's do it!" He, Rob and Andy subsequently met and crafted a plan to start the process in incremental steps. Hopefully it will begin soon.
Common Boneset (Native) and Purple Loosestrife (Invasive) plants. Photo Credit Robert Corby.
The landscape is still disturbed, but there is a slowly developing showcase of native trees, shrubs and pollinator plants. And although not finished, the combined 33 acres of the Erie Canal Nature Preserve (23 acres) and the Pittsford Arboretum and Wildlife Sanctuary (10 acres) already are a teaching tool of invasive species management; cultivation of native landscapes that support wildlife; and what we can all do to enhance and protect our regional ecosystem.
Our newest intern, Rey Vincent Sunglao, wrote "Sharing our projects with visitors and reminding them about our commitment to advocate, collaborate, and educate for frog protection is a wonderful experience. However, visiting the areas where we intend to [plant a] permaculture garden and witnessing its potential has heightened my excitement for the success of A Frog House."
Pathway into the future site, hopefully, of pollinator meadows and Patty Love's showcase sustainable garden. Photo Credit Robert Corby.
A Frog House has collected at least 500 signed petitions with the following requests:
WE, MEMBERS AND FRIENDS OF A FROG HOUSE regarding the Robert C. Corby Arboretum and Wildlife Sanctuary [request/expect/insist/demand] (circle one) allocation of sufficient funds through the American Rescue Plan Act, village funds, and/or other grants and gifts for proper maintenance and development of the property including
Removal of

the two large stands of Ailanthus Trees.
the mulch pile and the No Trespassing sign blocking public access to the south trail area

Eradication, using sustainable practices, in both wetland and upland areas of

ALL Japanese knotweed, including at the two areas where plastic sheets have been laid down
phragmites, garlic mustard and other invasive plant

Completion of the original plan for overseeding with milkweed and other native plants.
Installation of the Forest in a Nutshell edible garden designed by Barefoot Permaculture and Village Board approved in 2020.
Click here if you would like to add your own signature.
It seems simple enough, right? But it isn't.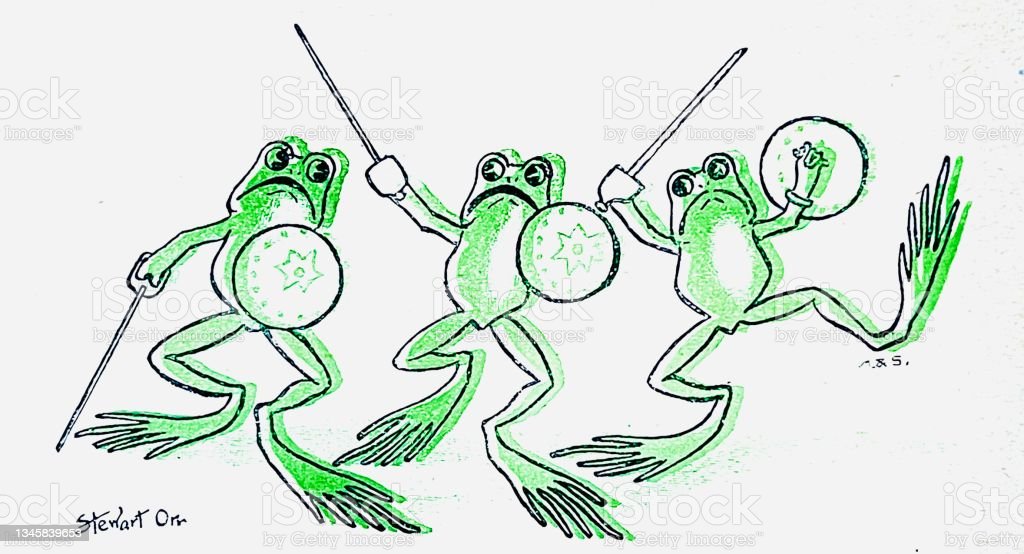 Three frogs with swords fighting Illustration from 19th Century. istock photo
My Psychiatrist Hat
As a psychiatrist, my vision for A Frog House obviously includes wellness for our community, collaborating with others interested in ecosystems and, in particular, mental health, which to me translates as kindness and compassion toward all.
Abraham Maslow proposed as long ago as 1943 that we all have a hierarchy of needs. These fit well into the biopsychosocial framework first proposed by Rochester Physician George Engel in 1977. The latter has become so commonplace and co-opted that people may not even remember his name. But this is how I put the two together:
Engel: Maslow:
Biological: Physiological needs, vital to survival
Psychological: Security and safety needs
Social: Love, acceptance, and belonging needs
Appreciation and respect
[Spiritual] Self actualization
As a fellow human being, I have been watching and doing my best to understand how the failure for people to have even their basic needs met, let alone their higher needs, results in sociopathy: being grabby, at whatever cost to others, for influence, power and land.
The most obvious result of grabbiness at its worst is the war of Russia in Ukraine, sheer ecocide, the destruction of the very land that feeds us. Are Russian oligarchs and, speaking of the rest of us, western corporate billionaires thinking they can live on gold and minerals alone?
If each of us tend to our own corner of the earth, we can get somewhere, but if we fight over control and influence and position, it doesn't matter how many changes in government there are (think Reds, and Brexit), the world, and the Arboretum, won't be any better off.
However, "it ain't gonna happen" if there is a continual jockeying for position, there are considered winners and losers (this has to be a win win win proposition … "it's about environmental stewardship, stupid!"). There are specific steps that need to be taken to ensure inclusivity, and the fact is, Prosocial sharing behavior actually works best for all. It is a sign that we agree that all have the the right to meeting all five of Maslow's needs.
Lindsay Cray MHC-LP of Integrating Nature. Foraging for, preparing and uses of plantain. Photo Credit, Margot Fass.
Upcoming Events
A Frog House: Climate Change, Frogs, and Mental Health. Sunday afternoon of October 8 (rain date at the library the evening of October 10)
Learn and discuss the scientific data both from the point of view of the negative effects of climate change on mental health, and the positive effects of environmental activism and immersion in nature can have on our psychological wellbeing.
We are lining up a great team of presenters for you, whom I was fortunate enough to meet at the Rochester Ecology Partners two day Nature-Based Learning Seminar. If you missed it, try to make it next year! It was great.
On his facebook page, from which I swiped his photos, Rob wrote: "At the August Village Board meeting, the Board accepted the Friends [of the Village Arboretum]'s invitation to join one our walks this fall. Because a quorum of the Board may attend the walk, it will be considered a public meeting. Once the schedule is set, I will publicize on Facebook. The Friends invite all who are interested to walk with us."
Justin Leitgeb, Lili Lanphear, Alysa Plummer, Lisa Cove, Dave Marshall
Date to Be Determined
Proposed: the Village Board harness the talents and energies of all parties interested in the 10 acres of land now designated as an Arboretum and Wildlife Preserve to create and support a master plan that will represents transformative community change. It shouldn't take more than 3 or 4 days, it take place in the early winter so that all desires can start to be actualized in the spring.
Onimim Numbere, Junior at Pittsford Mendon, summer volunteer. Photo Credit Margot Fass.
Volunteer
Ominim said: l liked learning more about local nature and about how to save the frogs. I didn't know that frogs were important to our ecosystem until I volunteered here. And I really liked when we went on the walk last week. I didn't even know that trail existed. That was pretty cool And getting to go outside once a week, I've never volunteered before and I probably would do it again. Going on walks and interacting with everyone else was nice, because I didn't know anybody, and made some new friends. [The volunteer experience] is pretty great the way it is, and I already asked someone else to volunteer with me next summer.
Thompson the Toad on Thompson's hand. 2023.9.3. Photo Credit Margot Fass.
Important advice from Amphibian and Reptile Conservation (ARC), Spawn and Tadpoles FAQ: If you keep the tadpoles until they have metamorphosed into froglets please do not release them back into the pond, instead release them into some damp vegetation close to the pond.
Donate
We always are learning new things, and sharing what we learn, hopefully influencing for good those in our sphere. Please help A Frog House expand advocacy, education and collaboration activities to help more frogs, wildlife and people in the process, not to mention plants, shrubs and trees.
Or donate your presence and time to our next event on October 8 and/or 10.